About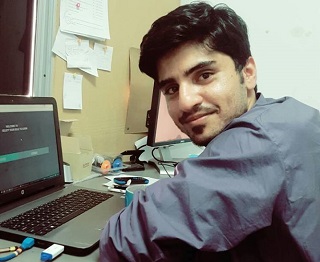 Web Developer & Designer.
I am having 5+ years of Web Developer and Designing on Core and Frameworks also on CMS.
Website: www.majidliaquat.com
Email: info@majidliaquat.com
Phone: +92 322 3751355
Degree: Software Engineering (Master)
Current City: Islamabad, Pakistan
Freelance: Available
Facts
Do projects as a passion not just for covering the milestones. Before the developing a protype helps a lot to sortout issues with client.
Skills
Every step need a consciousness and perfect soultion which helps out for sorting a problem into easy way. I have below skills which helps me to do my best to polish and use them in the support of my clients. Also I have to manage all these and something new for upcoming problems.
Resume
Summary
Majid Liaquat
To work in a dynamic, team-oriented, competitive and cooperative environment in a reputable organization, where there is maximum chance of learning and growth as a proficient, innovative and committed person in accordance with organization's policies. I am determined to apply the skills and knowledge I gained from my education and work for pursuing an successful career.
Islamabad, Pakistan
(92) 3223751355
majid.liaquat205@gmail.com
info@majidliaquat.com
Education
BS Software Engineering
2012 - 2017
IIUI, Islamabad
Done with my BS in Software Engineering from International Islamic University Islamabad. The major subjects were;
Software Requirements, CCNA, DBMS.
Quality Assurance
Project Management
Mobile Application Development
FSC (Pre-Engineering)
2009 - 2011
Govt: Atta Shad Degree College Turbat
Did my FSC (Pre-Engineering) from Governmanet Atta Shad Degree College Turbat
Matriculation
2007 - 2009
The City School
I have done my matriculation with Science subjects from The City School Quetta Campus.
Resume In PDF
PDF
Click on the link to download my updated resume in PDF. Download Resume
Professional Experience
Web Developer / Designer
2020 - Present
Balochtech, USA
Wordpress Development / Designing
App and Web QA.
Website Development
Website and App Designing
Maintaning Websites
Software Engineer / Project Coordinator
2019 - 2020
Ultrasoft System, Quetta
Developed Websites
Developed Applications
Re-Designed Wordpress Websites
Resolved Websites SEO issues
Managed minutes of Meetings
Give tranings to internees
Software Engineer
2017 - 2018
Consultants Group, Karachi
Developed Websites
Designed Applications on Asp.net
Developed Web Application (EMS)
Manage Applications
Maintain Current Websites
Web Designer
2014 - 2017
Balochtech, Moscow
Designed Websites
Added Contents to Website
Designed Android Applications
Mockup designed in photoshop
Logo designed in Illustrator
Services
Services that I am providing with my current skills.
I will develop your website for your Brand, Agency and Company. Website may be dynamic and static as per the requiremnets.
Provide you with best experience of web application for your Shop, School, Construction, Rent and many other projects.
I will be providing best designing for mockup projects. Also Logo designing, Card Designing, Brouchers designing and many more.
Contact
You can get in touch with me through my Social links which are given on below my profile picture or simply drop a message.
Location:
Islamabad, Pakistan
Email:
majid.liaquat205@gmail.com
info@majidliaquat.com
Call / WhatsApp:
+92 322 3751355